Child Care Connection Cares
Child Care Connection Cares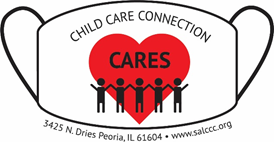 The Child Care Connection Cares Campaign supports Emergency Child Care Programs serving children of essential workers by providing masks to Early Childhood Education and Care Teachers. Our goal is to offer 500 homemade, material masks to programs in Peoria, Tazewell, Woodford, Fulton, Putnam, Marshall, Stark, LaSalle and Bureau counties.
We need your help in meeting this critical need to support the health of our early childhood workforce and the children in our communities!
Donations of adult, fabric masks:
Child Care Connection is accepting mask donations by drop off or mail to:
Child Care Connection Attn: Masks 3425 N. Dries Lane, Peoria Il 61604
*There is a designated drop off box near our main entrance.
If you would like to donate and need a pick up, please email Brenda Smith at bsmith@salccc.org or call 309-686-3750 option 8 to leave a message.
Mask Donation Guidelines:
We will accept all types of adult, fabric masks, and recommend the following patterns for mask templates and construction which meet comfort and health standards and recommendations:
https://www.unitypoint.org/filesimages/COVID-19/UnityPointHealth-OlsonMask-Instructions.pdf
https://www.osfhealthcare.org/media/filer_public/73/f9/73f90487-a428-4e5c-8273-26b6fc26f4bc/covid-19-how_to_make_masks-v2.pdf
All masks will be washed before distribution to programs.
Mask Distribution Guidelines
Are you operating an Emergency Child Care Program for essential workers and in need of masks for your staff and yourself?
Please call Lindsay Kinney at Child Care Connection 309-429-5998 or email lkinney@salccc.org with your program name, your name, phone number, email and the number of masks that you are needing.
Child Care Connection will arrange curbside pickup from our office or mail delivery of masks.
Please help us meet our goal of 500 masks donated and delivered to our Early Childhood Education and Care Teachers caring for children of essential workers by May 15, 2020.